Experience the finest Goose Decoying available across Aberdeenshire, Inverness-shire and Morayshire.
Here are some videos of some recent decoying mornings.
AIM Wildfowling arrange shooting across any or all of the three shires to meet your requirements and provide you with the best shooting experience available in the North East of Scotland and the Highlands.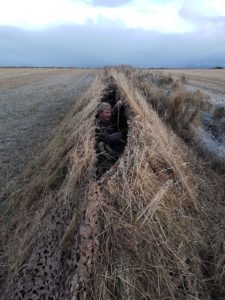 We arrange decoying daily throughout the seasons at the feeding grounds surrounding the main roosts in
Strathbeg
New Pitsligo
Spynie
Findhorn
The inner Moray Firth
The day starts before dawn when you are collected from your accommodation and taken to the shoot. Hides are built and the decoys are put in position ready for first light.
The sight and sounds of the geese dropping on to the decoys are second to none. You shoot from first light and will be finished by mid-day, we can arrange for any birds you shoot to be processed should you wish to take them home with you.
Pictures from some of our recent shoots
Decoys and equipment
Goose Decoying is usually arranged for a team of six or seven guns, our minimum requirement is four guns.
Goose Decoying is available in October, November, December and January, please Contact Robbie to arrange your shoot.